Online Stalking and Civil Rights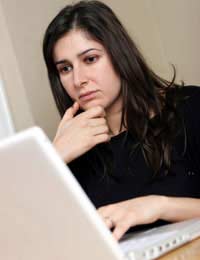 Online stalking has become a very serious problem. But online stalking is harassment and there can be very serious consequences for those who do commit this crime.
Is Online Stalking A Criminal Offence?
Online stalking or cyber stalking is now being taken more seriously by the government. Online stalking is in itself not an offence, for example constantly checking up on an ex partner's online activities is not an offence. But when the stalking becomes harassment it can then be classed as a criminal offence. The police have used the Protection from Harassment Act to prosecute cyber stalkers. Sending offensive emails can also be classed as an offence under the Malicious Communications Act.
Increasing Number of Online Stalking Incidents
Reports of online stalking cases are increasing and social networking sites have been named as part of the problem. There have been cases of stalkers lying about their online age in order to dupe people into meeting them. Recent cases have included the deaths of victims, usually women, who have been stalked by people using networking sites. Online stalking and cyber bullying is as frightening as being followed or harassed outside of the internet. The problem has become serious enough that new laws are being brought in to help tackle the problem.
New Laws to Combat Online Stalking
Scottish Ministers are proposing new laws that will specifically outlaw harassment of victims by either emails or texts. The new laws will also prohibit spying, following and persistently pursuing someone using telephone calls. Social networking sites are to be included as part of the remit of this law as to where these offences occur. These new laws are intended as a loud and clear message that online stalking and online bullying will not be tolerated by the authorities.
Increased Reports of Cyber Bullying
Bullying of children no longer takes place solely in the school playground but has now also moved online.Cyber bullying is a common problem that has actually led to the deaths of those who have been targeted. But online bullying isn't just towards children. A recent case was reported of 20 pupils suspended from school for posting abusive messages online towards a teacher. Again, cyber bullying can be classed as an offence under the Harassment Act and the Malicious Communications Act.
What Is Classed as Online Stalking?
Online stalking is harassment and can take many forms including:
Offensive emails intended to cause distress to the recipient
Threatening and abusive emails
Offensive texts or phone calls
Posting of abusive messages on social networking sites and other websites such as blogs
Abusive messages or obsessive behaviour using online tools such as instant messaging
Hiding Safely Behind the Internet?
Reports show that in most cases the online stalker is actually known to the victim. Common cases of online stalkers are usually ex-partners or ex-spouses. Online stalkers have also been known to be serial offenders with a history of sexual offences. Many stalkers think they are safely hidden behind their computer screens but there are ways to trace offending emails. This is the reason why it is important for all victims of this type of abuse to keep emails, texts and to record phone calls from the offender.
What to do If Online Stalking Occurs
The first port of call if someone is being stalked online would be to simply ban or block the sender's email address. Changing email addresses can also be an option and stopping the use of social networking sites may also be an option. If the victim of the abuse does feel threatened then they should report the matter to the police who will log a formal complaint. The police should ask the victim of the abuse if they would like the stalker to be formally warned. The victim should also keep a record of all emails or abusive messages as evidence.
The internet has brought about new ways for criminals to commit offences and online stalking is becoming increasingly common. Harassment is an offence using online methods just as it would be outside of the internet domain. This type of offence can have very serious consequences for the perpetrator and can actually mean a prison sentence. Victims of online stalking should never be afraid to report the abuse to ensure that it does not escalate.
You might also like...
Oh and because he lives in the U.K. And I'm in Asia, so I don't think the local police would help me solve this.
Popcorn
- 17-Feb-17 @ 12:25 PM
My psycho ex has been abusing and harassing me non stop for almost two years now. He even accused me of cheating and stealing the things HE GAVE to me. And spreading false news to all his friends and family about it. He had about 100 fake accounts just ago bother me. It's getting too draining. I don't know what to do and who to go to anymore. He's getting away with it because there isn't a way where I could just find help with the authority. Please help.
Popcorn
- 17-Feb-17 @ 12:24 PM
@juggsy. If the police won't do anything there's not a huge amount you can do. You could try contacting a solicitor to see if there's anything that can be done via the civil courts.
CivilRightsMovement
- 1-May-15 @ 11:57 AM
i have been having issues with a person I don't even know, they contact me on social media so I have blocked them and changed email address, I have moved house she has found out where I live I have changed my mobile number in the past 24hrs and nobody has it but she contacted me saying she has got, she send me dna tests every six months through the post, and this has been going on now for 3yrs, the police have been called many times but still won't help, what can I do as it's making me ill
juggsy
- 26-Apr-15 @ 8:23 PM