Black Civil Rights History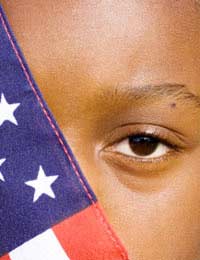 Black civil rights history mainly focuses on the period during the 1950s and the 1960s. This was the period when the civil rights movement made their real impact against inequality and prejudice. The rights of Africans and then African-Americans had been wiped out during almost 400 years of oppression. But the 1950s and 1960s heralded a time when the civil rights movement took control and changed the course of America.
The Civil Rights Cause
The civil rights leader A. Philip Randolph once said that freedom is never given, it is won. For centuries African-Americans had to fight for many rights that white Americans had taken for granted. The right to education, voting rights, fair employment and desegregated public facilities were all forbidden for the black population of America. The civil rights movement changed the course of history in America by taking action that would change the law to grant these civil rights.
The Price of Freedom
The struggle for the freedom that white Americans took for granted was not a simple case of protests and demonstrations. The struggle included the documented deaths of many African-Americans and the thousands more that went undocumented. Civil rights leaders such as Martin Luther King Jr. and Malcolm X were both assassinated during their struggle to attain civil rights and the integration of black and white in America. During the sixties America was undergoing a racial explosion and it was at this point in history when the civil rights movement changed America's thinking.
Civil Rights Timeline
There are thousands of moments in black civil rights history that have been well documented, and many more that history has forgotten. But there are stand out points that would shock the nation and lead to congress passing the Civil Rights Act 1964 to eliminate segregation and discrimination. This timeline would include:
Aug 1955, 14 year old Emmett Till is brutally murdered for whistling at a white woman
Dec 1955, Rosa Parks refuses to give up her seat on a bus to a white man and is arrested.
Dec 1955, The Montgomery Bus Boycott lasts one year and the Supreme Court deems public transport segregation unconstitutional
Feb 1960, peaceful sit-ins begin at lunch counters and other public facilities, many ending in violence
May 1961, angry mobs attack students for testing the new laws prohibiting segregated public transport
April 1963, riots begin against anti-segregation demonstrators in Birmingham, Martin Luther King and many others arrested
May 1963, the world watches as police brutally batter demonstrators in Birmingham, Alabama
Sept 1963, four young girls are killed during a bomb blast at a church in Birmingham and riots ensue
Violence that Shocked America
The above points and many more were the wake up call to white America regarding the inequality that existed in their country. A great deal of the violence was occurring in the Southern states where a great many whites still opposed desegregation and civil rights for African-Americans. Not only were these civil rights being abused by the public in the South but also by the police and the courts. The images of peaceful demonstrators being clubbed and beaten by the authorities were beamed into the homes of Americans on a daily basis and the time had come for a change.
The Civil Rights Act 1964
The strength of feeling regarding the civil rights movement was to come to a climax during the March on Washington for Jobs and Freedom. When President Kennedy proposed his bill for civil rights 250,000 black and white people journeyed to Washington to support it. This march in 1963 was a history changing event where Americans showed their support for the proposed legislation. Kennedy would never see his proposed bill come to fruition as he was assassinated only three months later.
The Fight against Racism
The Civil Rights Act 1964 was eventually signed on 2 July 1964 but this did not mean the end of racist attacks. Only one month later the bodies of three civil rights workers, one black, two white were found in Mississippi. The workers had been helping to register black voters when they were arrested and then released at night into the hands of the Ku Klux Klan who then murdered all three. The voting rights act protecting the rights of Southern black voters was passed a year later.
Black civil rights history does not start and end during the 1950s and 1960s, it still continues to this day. Many more events happened before and after this period to help implement equality and freedom for all. But this period of time is recognised as the defining period in the civil right movements and paved the way for a more equal society.
You might also like...
Hello I like to say I need a time line on black brutality
eway
- 17-Sep-15 @ 5:03 PM
We as the childrendren could give them a chance to step up and be the father I hope they want to be.
lovebugg
- 22-May-15 @ 9:07 PM
BLACK MEN POSSESS VERY LITTLE HELP IN REGAINING CONTACT WITH OUR CHILDREN BASE ON ENGLISH LAW . SO WHST CAN YOU DO TO HELP US ?
CHARLIE
- 20-May-13 @ 3:50 PM