Key Figures in the Civil Rights Movement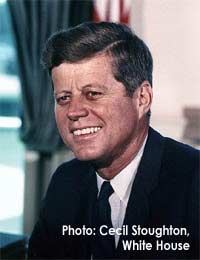 It would be a hard task to select all of the key figures in the civil rights movement. The list would be long and there are many who played a part that have not been properly recognised. However, there are some key figures that have gone down in the history books as the ones who made a significant difference to this historic struggle for freedom.
Martin Luther King Jr.
King was one of the major civil rights leaders and was active in the movement during the 1950s and 1960s. King came to the nation's attention when he spoke out against the arrest of Rosa Parks who would not give up her seat to a white man on public transport. King utilised peaceful protest as a political tool and was instrumental in forming the Southern Christian Leadership Conference (SCLC). In 1955 King was also instrumental in the Montgomery bus boycott that led to the Supreme Court prohibiting segregation on public transport.
I Have a Dream
King's most famous moment came with the speech he delivered during the historic March on Washington for Jobs and Freedom. His "I have a dream" speech captured America's heart and proved King to be one of the world's greatest public speakers. In 1964 he received the Nobel Peace Prize for his civil rights work, the youngest person to receive the prize. By the time of his assassination in 1968 he had begun work to help end poverty and the Vietnam War.
Rosa Parks
Rosa Parks was instrumental in spurring on the civil rights movement in 1955. Parks boarded a bus in Montgomery, Alabama, and refused to give up her seat to a white man because the "whites only" seating area was full. Her subsequent arrest led Martin Luther King Jr. to organise the Montgomery Bus boycott of public transport, which lasted for over a year. Due to the boycott the Supreme Court ruled that segregation on public transport was unconstitutional and the bus boycott finally ended. Rosa Parks is often thought of as the mother of the modern day civil rights movement.
Emmett Till
The murder of the 14 year old African-American Emmett Till in Money, Mississippi, was another key moment in the civil rights movement. Till was beaten and shot through the head before being dumped in a river for whistling at a white woman as a dare from his friends. The three accused men were acquitted of the murder but later admitted they were guilty. Till's mother insisted that photographs were published in order that the world could see what had happened. Emmett Till's murder case was reopened in 2004 but no further charges were made against any living suspects.
Malcolm X
Malcolm X was a major figure in the civil rights movement and a figurehead for the Nation of Islam during the 1950s. X was a passionate and inspiring speaker who fought for independence for African-Americans using violent methods if necessary. To some, such as Martin Luther King Jr. who preached of peace X was the flip side of the civil rights movement. If the American authorities did not want to deal with the peaceful protests of King then Malcolm X would be the alternative. However, after falling out with Nation of Islam Malcolm X's attitude changed to that of non-violent protest for integration. Malcolm X was assassinated in 1965 by members of the Nation of Islam.
President John F. Kennedy
Kennedy at first did not fully support the civil rights movement for fear of alienating voters. However, he did plant the seeds for the Civil Rights Act 1964. After the riots in Birmingham Kennedy decided to support the movement fully, regardless of whether or not he would lose the next election. He supported the March on Washington for Jobs and Freedom and had plans to implement a stronger civil rights act. He would never see the Civil Rights Act 1964 come to fruition as he was assassinated only a few months after the March on Washington.
Other Key Figures
The list of key figures in the civil rights movement is a long one but would include:
President Lyndon Johnson, pushed forward the Civil Rights Act 1964 despite great opposition
Marcus Garvey, a Jamaican activist who fought for Black Nationalism and influenced others such as Malcolm X
Booker T. Washington, fought for African-American rights to economic equality with whites
Thurgood Marshall, leader of the NAACP and the first African-American to sit in the Supreme Court
W.E.B. Du Bois, helped to develop black consciousness through art and history and helped form the NAACP
There are countless other figures that go towards ending segregation and discrimination. The civil rights movement was a collective effort and each person was as important as the next in this world changing movement.
You might also like...
i like men
lawson
- 2-Jun-23 @ 5:31 AM
omg i loved this thanks for the help ,also i agree white people can be so mean back then
jackie
- 8-Jun-20 @ 1:40 PM
Ayo listen, Im working on this thing for Ms.Wall, and this article really helped. thanks for supporting a homie.
Dean From Woody :P
- 9-Jan-20 @ 6:57 PM
can i have your sources and workcitied page?
This is very sad how unfair whites can be
SOmeoatmeallover
- 12-Jun-19 @ 6:30 PM
I think that it was very wrong that Emmett Till was murdered. Seriously, what the heck?
Dragonborn
- 4-Mar-19 @ 5:02 PM
I like how these people wanted to make a difference.
ash
- 12-Apr-18 @ 1:05 PM
I am looking for help as part of a group that is objecting to the selling of all our land as aboriginals of Australia we feel suppressed and our rights have been violated and we have urgent need for some help off others please Civil Rights activists or a lawyer thank you
Mary
- 17-Nov-17 @ 11:03 PM
Why did black Americans think it was good to sacrifice things to get what the wanted whiitch was freedom
Newyorkcitycake
- 30-Sep-16 @ 7:05 PM
Halpert:) - Your Question:
Do you know what rosa park did for a living
---
Our Response:
She was a seamstress in a department store as far as we are aware.
CivilRightsMovement
- 25-May-16 @ 11:45 AM
Do you know what rosa park did for a living
Halpert:)
- 24-May-16 @ 5:02 PM
This was a very difficult time for the african americans.
Mistyleann
- 20-Apr-16 @ 7:21 PM