Dealing With Discrimination in Bars and Restaurants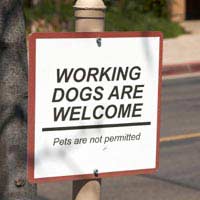 Although discrimination laws exist in the UK this does not mean discrimination has been eliminated. Discrimination is still practised in many bars, restaurants and businesses across the UK.
Discrimination in UK Bars and Restaurants
It is against the law to discriminate against or treat someone unfairly on the basis of prejudice. But this is more common than most people think and does occur in bars, restaurants and other businesses in the UK. Many discrimination stories have made major headlines, especially when the discrimination comes from well known businesses. Discrimination can come in the form of treating someone unfairly because of gender, sexuality, religious beliefs, race and disability. Discrimination should never be tolerated and speaking out will help to make a difference.
Discrimination Issues in the Press
The press are never slow to bring discrimination issues to the public's attention. Discriminatory practices that have hit the headlines in the past have included:
A restaurant refusing to admit a visually impaired person accompanied by a guide dog
A well known pizza restaurant refusing to serve a group of gay men
An East London pub displaying a sign that said 'no travellers' was reported to the Human Rights Commission
A disabled customer was forced to conduct banking business in the street due to lack of disabled access
A mother was forced to quit her job because she was told by bosses that her disabled child was always sick
An atheist teacher working at a Catholic school was prevented from applying for promotion due to religious beliefs
A gay couple refused lodging at a bed and breakfast due to the owner's religious beliefs
Dealing With Discrimination in the UK
No one should have to tolerate discrimination regardless of where it occurs. When discrimination occurs in pubs, restaurants or any other type of business it can be embarrassing and against the law. There are a number of ways to deal with discrimination and speaking to the management can be the first step. In many cases the management or owners will not be aware that this type of discrimination is happening. Complaining informally may result in the management taking action against their staff to prevent this happening again.
Discrimination and Making a Formal Complaint
If making an informal complaint to the management does not produce satisfactory results more formal measures may be required. This can mean making a formal complaint in writing to the business. Every business should have a complaints procedure, if not, the complaint should be made in writing to the business owner. Complaint letters should include the date, time and place of the incident and an outline of what actually happened. The names of the people involved should also be included as well as the possible solution to the incident.
Complaining to a Ombudsmen over Discrimination
Certain businesses have regulatory bodies and ombudsmen that discrimination complaints can be taken to. Ombudsmen and regulatory bodies are in place to ensure that standards of service are upheld within businesses. Complaining to these bodies can be a way of having the matter investigated and stopping this discrimination from happening again. This manner of complaint will not usually lead to any type of compensation.
Taking the Discrimination Issue to the Next Stage
If the formal complaint does not bring satisfactory results then the last resort would be court action. This could mean bringing a claim to a county or sheriff court. This action is usually taken with the intention of claiming compensation over the discrimination issue. This type of action does have a time limit, which is usually six months from when the incident took place. Legal advice should always be taken and this can be an expensive route. If the claim is for more than £5000 and the defendant loses they may have to pay the legal costs of the company they are fighting against.
Anyone who has been discriminated against should never think they are causing a fuss when complaining. Anti discrimination laws were set in place to stop people from discriminating against others because of their own prejudices. Discrimination is a serious offence that can cause much misery for the person being discriminated against. More information on discrimination in the UK can be found at the Citizen's Advice Bureau.
You might also like...
Me and my friend took kids for holiday last week. We went to this Greek restaurant called Mykono in Tenby. My younger boy is diagnosed with Autism and non verbal. During the meal he is quite excited and shout a little bit so I calmed him down. He tried to run around the restaurant so I stopped him kept him on the corner next to our table. When we finished the meal, the owner/chef I think, came over said: Please, because of your son, my customers are all gone! I was shocking! my friend sat faced the door, she said to me nobody left. So I still apologized explained my son is autistic but he still said: okok, but my customer are gone because your son! we were really shocking! Especially when we were in the restaurant there are 2 younger girls running around the restaurant and the owner and staff did not tell them off. We felt either this is type of hate crime for disability kids or because we are Chinese so it is the racist issue. Either I really do not think is acceptable. This is made us really sad and angry even my younger son did not understand but my older son is 10 years old and he is diagnosed with Autism as well. This made him really uncomfortable and felt the society is not accept them like normal kids. I already gave bad reviews online to the restaurant but still feel if another day kids or anybody enter that restaurant with disability, the staff and the owner will show their respect. What should I do next if you can give me some suggestions please? Thank you.
Sammi
- 13-Aug-23 @ 10:33 AM
The Cary Arms Babbacombe Torquay I visit Babbacombe Downs every year. Over the years we have often popped into this pub for a drink or a meal whilst out walking. However, over the last 3 years they see themselves as so exclusive they turn people away at the door even though the pub and beer garden are completely empty. The excuse is we're always given is, taking bookings only. Happened again this weekend. As a family group we had taken our in-laws away for a joint 80th birthday celebration to Babbacombe. We done our usual walk on Saturday from Oddicombe Beach over to the Cary Arms. We could see, once again, the pub was totally empty and only one couple were sitting in the large beer garden. As our 80 year old inlaws were tired and in need of a drink. My husband went to the doors and, again, told by a member of staff they were fully booked and could only take pre-bookings. We would only have been there for 30 minutes and would have sat in the empty beer garden....and yes we were in casual clothes because we were out walking. Therefore about an hour later a couple in our group, who had not been seen, got changed and went back. They asked if they could have a drink in the beer garden and were allowed in. Shame on you Cary Arms with your outdated snobbery, discriminatory approach. Must be wonderful to be in a position to turn away all that custom because you judge how people look at the door. Luckily we were able to call a friend to drive down the hill and take our 80 year old in-laws back up the hill to the establishments who accept people as they are
Maggie
- 29-Mar-22 @ 11:09 AM
I trust this is in confidence. Some years ago, I drank on a regular basis in a Central London pub - The Swan, Lancaster Gate.I could have recommended it as a great pub.It really had novelty value.In the back bar, a man named David who played piano every weekday evening -highly popular with tourists. I often drank there about 3 evenings a week. After a while, I was befriended by 2 Dutch sailors and as they seemed to be the only other regulars there themselves, we had a good 'rapport.'It was highly convivial. However, it all trend 'sour' when one night, befriending them in turn for the amount of times they had done so with me, they explained they were no longer interested in my company, and I only wished to drink with them as they were 'working class.'It was their 'regular' and I was no longer welcome! I considered it to be ultimately the decision of the pub management as to whether I was welcome there, but that was, alas, my last visit. From good pub to bad pub - in 12 - 18 months. P.S. Intuition, but I cannot help but think that if, after a while I no longer wanted their company, they would have said that if I thought myself better than they were, to find myself another pub. Reply if you wish. Thank you.
Robin
- 16-Jun-19 @ 12:56 AM
I entered a McDonald's with my two daughters and headed for the disabled toilet. I was told rudely that the ladies was upstairs. I asked the employee if this was in fact a disabled toilet and she said yes. I couldn't get my radar key to work so I struggled back out and asked the employee if the radar keys worked there. She abruptly said "theres someone in there" while giving me a dirty look. If I had walked upstairs to the ladies at that point I would have wet myself.Eventually a man with a walking stick came out of the toilet and I went in. When I came out I said as politely as possible that she shouldn't assume a person is not disabled because they have no wheelchair or walking aid. I was expecting an apology but she just smirked at me and walked off. To make matters worse the girls had already ordered the food and I had to struggle upstairs as the lift was out of order. I am registered disabled. A tumour destroyed my bladder leaving me in constant pain and in need of a toilet every 15 to 20minutes. I feel this employee treated me unfairly and with bias because she assumed I am a liar. I ended up upset and now feel that i cant use the disabled toilets anywhete unless in my wheelchair.What should I do?
Shazz
- 9-Jan-18 @ 2:46 PM
I was in a bar in Heywood Greater Manchester area and l was witnessing a barman being discriminated against because he is Scottish giving it the old jock talk. I could see this was actually effecting the barman, but he kept a cheerful face as you have to in this line of work usually. Also there was a young man who was Scottish having a drink with friends in the same bar and this " Comedian " made a joke about if he had his passport ready basically suggesting that Scots would be leaving England through brexit. Personally I have witnessed for years the discrimation of Scots that no other nationality take from English people. There isn't enough getting done to change this obvious bigot like attitude in England.
Nanthy
- 16-Aug-17 @ 1:39 PM
Dave - Your Question:
Called into a restaurant in Hull last night. My wife asked for a table for two. The young girl on the front desk refused to let us in because she said my wife had had to much to drink and would not serve us. My wife may have had a drink but she was not Drunk. She had earlier in the year had a Brain hemorage which sa made her speech a little bit sluggish so she sometimes appears to be drunk. I would class this a slight disability.
---
Our Response:
Write to the restaurant HQ with a formal complaint explaining about your wife's health and requesting that they educate their staff to be more aware of this kind of thing.
CivilRightsMovement
- 19-May-17 @ 11:48 AM
Called into a restaurant in Hull last night. My wife asked for a table for two. The young girl on the front desk refused to let us in because she said my wife had had to much to drink and would not serve us. My wife may have had a drink but she was not Drunk. She had earlier in the year had a Brain hemorage which sa made her speech a little bit sluggish so she sometimes appears to be drunk. I would class this a slight disability.
Dave
- 18-May-17 @ 8:54 AM
I was asked to leave a pub when the barman said I was upsetting the customers..I was just talking about my problems..I suffer with schizophrenia.. He said that I was annoying and so was my dog
Lisa
- 19-Mar-17 @ 3:56 PM