Acting Against Discrimination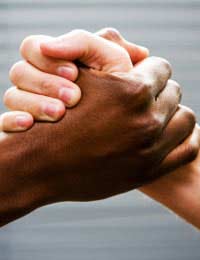 Acting against discrimination means taking a stand and enforcing your rights. Discrimination should never be tolerated whether someone is discriminating because of race, colour, religion, age, gender, sexuality or disability.
The Struggle for Equal Rights
It has taken a long time for the people of Britain to win their rights to freedom and equality. It has only been just over 40 years since the first race discrimination act was set in place. Immigrants that came to this country to help rebuild the nation after the wars soon found themselves treated as second class citizens.
There was not much equality for the immigrants from Jamaica, Poland, India and other countries who arrived in the UK at this time looking for a better life. Equality over issues such as equal pay, employment, education, housing, voting rights and desegregation were battles that continued for years. The rights we take for granted today were never given without a fight. Equality is a basic fundamental human right but it has only been four decades since this right could be expected by everyone. The fight for other rights such as the protection against discrimination on grounds of sexuality and religious beliefs has taken much longer.
Discrimination
When discrimination rears its head it usually comes through ignorance or fear or attitudes handed down through generations. Discrimination means treating one person favourably in relation to another person. The reasons for the discrimination can range from the colour of a person's skin to how old a person is to the country they were born in. Discrimination can cause misery and distress for the discriminated against and can have a significant influence on how they view society.
Enforcing Your Rights
Britain has a strict set of laws on protection against discrimination. This means that there can be legal consequences for anyone who practices discrimination in a number of areas. Enforcing your rights means standing up to the discriminators even if it means taking legal action. Throughout history people have lost their lives standing up against discrimination when there were no laws in place, sometimes when there were laws in place. Today, everyone should have the right to live their lives without fear of discrimination.
Standing up Against Discrimination
It is not simply a case of standing up and enforcing your rights if discrimination actually occurs against yourself. Anyone who witnesses discrimination should have the courage to actually stand up to fight the abuse of rights. Many people will not stand up for fear of the consequences, which may be victimisation if acting as a witness. But if a discriminator is allowed to continue practicing this abuse of power then it could be your rights that will be abused next.
Legal Action against Discrimination
The law in Britain has made it harder for people to practice discrimination without fear of consequences. Employment tribunals and civil and criminal court cases can all be used to enforce the protection guaranteed by law against discrimination. If this abuse of power occurs then it should either be brought to the attention of a higher authority in the workplace or the police if hate crimes occur. There will be officials trained to investigate the matter and decide the best course of action.
Stamping Out Discrimination
There are many ways that British citizens can help eliminate the abuse of rights caused by discrimination. Organisations such as Liberty, Amnesty International and Justice are only a few of the organisations that can be contacted to learn how to make a difference in stamping out the abuse of human rights. Citizens Advice Bureaus will also be able to give information and advice on how to make a difference by standing up against discrimination.
Discrimination in whatever form it takes has no justifiable place in the UK. There are certain groups in the UK that exist simply to incite hatred and promote discrimination. One of these groups actually promotes itself as a legal political party. However, it only takes the actions of one person to stand up against the discriminators to make a real difference towards a more equal society.
You might also like...
I would like to seek advice on a racial hate crimes from the police. The police assault me since the assault they have lied on numerous occasions to gain access to my belongs they damage them stolen money from me threatened me on the phone and constantly turn up where I live or my work and sent threating letters. Even made up I was trolling them they made up the social media account in my email address to pretend I was trolling they where trolling them self. They asked Google for access to one of my email account. They have put tracers in my belongs so they can turn up where I am.
Donna
- 23-Nov-20 @ 11:49 PM
why don't you just say it ,the law only protects people with large bank accounts at least we don't have to be constantly insulted listening to your lyes ref. on your web site very disheartening when I am trying to report a crime which I have been the victim off and and now being financially punished just for trying to bring it to the authorities attention
tell me what you cal
- 28-Oct-15 @ 2:16 AM