Joining a Civil Rights Group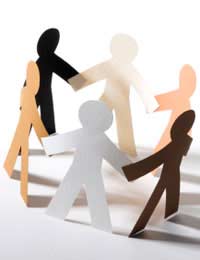 Joining a civil rights group means that you are taking a step towards helping to create a more equal and free society. It will also give you the chance to make a difference when it comes to stamping out the abuse of rights that occur on a daily basis around the world.
Why Join a Civil Rights Group?
There are many reasons why people decide to join civil and human rights groups. Organisation such as Amnesty International and Liberty are dedicated to making people aware of their rights and helping to stamp out the abuse of rights. Becoming a member of these groups will allow you to make a real difference to the world in which we live. Members are made aware of the abuse of rights throughout the world and can take action to help stamp out this abuse of power.
Taking Action against Abuse
Some people will join civil and human rights groups and simply pay their fee every month. Simply by paying a fee, as little as £5.00 per year, you will be helping these organisations to exist. However, there are other ways that you can help. Ways to take action through civil and human rights organisations will include:
Writing letters to governments protesting against the abuse of rights to citizens of particular countries
Signing petitions on a number of different civil and human rights issues
Attending marches and protests
Voting on issues within the rights organisations to help create the future of the organisation
Starting your own group within a school, college or university
Become more aware of the abuse of rights across the world and sharing this information with others
Volunteering to help with rights campaigns in different offices around the UK
Raising funds for the organisations
Joining and Fees
Anyone can join a civil or human rights group. There are special fee rates for different age groups such as 14 to 18 year olds. Students will also be able to apply for concessions when it comes to joining organisations such as Amnesty or Liberty. There are a huge number of other civil and human rights groups that focus on certain issues such as women's rights or fighting racism groups. If you are interested in the rights of a particular group then a quick search on the Internet will bring up a number of organisations that you can join.
Young People and Rights Groups
Young people are an essential part of all civil and human rights groups. They are the next generation who will maintain and promote freedom and equality around the world. It is only through educating the young that the abuse of the rights of others will be eliminated in the future. Many of the civil and human rights group have special sections where young people can take part and make a difference. Joining fees are lower for young people and there will be advice on starting their own rights groups around the country.
Making a Difference
The campaigns organised by civil and human rights groups do make a real difference to ending oppression in countries around the world. By joining these groups you will be able to help stop the abuse of power by oppressive governments and fascist regimes. There are also campaigns to change laws in Britain and to fight oppression and the abuse of rights closer to home.
Joining a civil or human rights group is a way to stand up and let your voice be heard when it comes to stamping out the abuse of rights. It is a way to make a positive difference to the world in which we live. These groups are very easy to join and you can have as much or as little participation as you wish. Simply by donating a small fee every month you will be making a difference to the lives of others around the world.
You might also like...
I would like more information on joining your civil rights organisation.
i think anyone will be treat the same because they always think women ask for it no matter what
borkie
- 6-Jul-16 @ 8:55 PM
working for council 50pence an hour less than others doing the same work
mungospark53
- 6-Jul-16 @ 8:35 PM
equal pay. Working for council on 50pence less than someone doing same job.
mungospark53
- 6-Jul-16 @ 8:31 PM
I have to agree with the first commentfromTonny. I was verbally and physicallyassaulted by a english men, I reportedto the police and when the officer came to my house to talk to me I felt intimidating the way he was talking to me and alsohe said that will be my word against the english men... He basicallywas sayingI waswastingeverybody time. Now answer me please. .. How to stand up for racism ?
Zen
- 28-Jun-16 @ 11:12 PM
My family was the victim of a violent crime that left our son with life threatening/long injuries. It seemed that during the whole legal process, everybody was treating us like the perpetrators instead of the victim. At the end, the perp got three years probation with no jail time. Our son and our lives will never be the same.
Tony
- 17-Feb-16 @ 7:41 AM
I am london based and would love to join a anti- racial discrimination group. Please email me if you know any or are part of any.
I would like to be more educated on the civil rights movement. I live in a small town called Joliet and we really need change here.
No nick name
- 1-Dec-15 @ 1:44 AM
I need to join any groups who are fighting for the rights of our children to be supported by the absent parent.Our children need the support of both parents and I cannot see that contributions can be based on what has the absent parent got left after other expenses and maybe other children.Absolutely tuff. You are the parent of children who need support - it costs at a minimum X to support them and they should pay appropriately.We have to stop being so leanient and soft.As the alternatives are creating so much stress and strain on the parents with care that it should be made a criminal offence. Can anyone give any guidance on this?I have to start fighting for my children to be supported and the CSA are doing nothing.
Parent at a loss wit
- 10-Mar-13 @ 1:09 PM
I am a Human Rights activist, and have spent years defending rights , and democracy and rule of law. But despite my legal knowledge, I have been targeted, and fell a victim of most cruel racial harassment.and targeting of personal data and all aspects of my life. They stole every thing I owned, ruined my career andmy job, and inflicted upon me untold financial losses. I sought the Police help and Local authority ,but all to no avail. So I understand a lot about injustice and violations of Human Rights rights,
Human Rights Activis
- 20-Feb-12 @ 5:30 PM
I would like to make a stand against any wrong doing of our rights as a human being.
redd
- 29-Nov-11 @ 4:20 AM