Dealing With Discrimination in Bars and Restaurants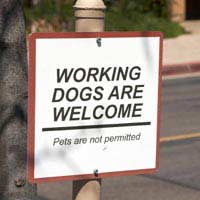 Although discrimination laws exist in the UK this does not mean discrimination has been eliminated. Discrimination is still practised in many bars, restaurants and businesses across the UK.
Discrimination in UK Bars and Restaurants
It is against the law to discriminate against or treat someone unfairly on the basis of prejudice. But this is more common than most people think and does occur in bars, restaurants and other businesses in the UK. Many discrimination stories have made major headlines, especially when the discrimination comes from well known businesses. Discrimination can come in the form of treating someone unfairly because of gender, sexuality, religious beliefs, race and disability. Discrimination should never be tolerated and speaking out will help to make a difference.
Discrimination Issues in the Press
The press are never slow to bring discrimination issues to the public's attention. Discriminatory practices that have hit the headlines in the past have included:
A restaurant refusing to admit a visually impaired person accompanied by a guide dog
A well known pizza restaurant refusing to serve a group of gay men
An East London pub displaying a sign that said 'no travellers' was reported to the Human Rights Commission
A disabled customer was forced to conduct banking business in the street due to lack of disabled access
A mother was forced to quit her job because she was told by bosses that her disabled child was always sick
An atheist teacher working at a Catholic school was prevented from applying for promotion due to religious beliefs
A gay couple refused lodging at a bed and breakfast due to the owner's religious beliefs
Dealing With Discrimination in the UK
No one should have to tolerate discrimination regardless of where it occurs. When discrimination occurs in pubs, restaurants or any other type of business it can be embarrassing and against the law. There are a number of ways to deal with discrimination and speaking to the management can be the first step. In many cases the management or owners will not be aware that this type of discrimination is happening. Complaining informally may result in the management taking action against their staff to prevent this happening again.
Discrimination and Making a Formal Complaint
If making an informal complaint to the management does not produce satisfactory results more formal measures may be required. This can mean making a formal complaint in writing to the business. Every business should have a complaints procedure, if not, the complaint should be made in writing to the business owner. Complaint letters should include the date, time and place of the incident and an outline of what actually happened. The names of the people involved should also be included as well as the possible solution to the incident.
Complaining to a Ombudsmen over Discrimination
Certain businesses have regulatory bodies and ombudsmen that discrimination complaints can be taken to. Ombudsmen and regulatory bodies are in place to ensure that standards of service are upheld within businesses. Complaining to these bodies can be a way of having the matter investigated and stopping this discrimination from happening again. This manner of complaint will not usually lead to any type of compensation.
Taking the Discrimination Issue to the Next Stage
If the formal complaint does not bring satisfactory results then the last resort would be court action. This could mean bringing a claim to a county or sheriff court. This action is usually taken with the intention of claiming compensation over the discrimination issue. This type of action does have a time limit, which is usually six months from when the incident took place. Legal advice should always be taken and this can be an expensive route. If the claim is for more than £5000 and the defendant loses they may have to pay the legal costs of the company they are fighting against.
Anyone who has been discriminated against should never think they are causing a fuss when complaining. Anti discrimination laws were set in place to stop people from discriminating against others because of their own prejudices. Discrimination is a serious offence that can cause much misery for the person being discriminated against. More information on discrimination in the UK can be found at the Citizen's Advice Bureau.
You might also like...
I was asked to leave a pub when the barman said I was upsetting the customers..I was just talking about my problems..I suffer with schizophrenia.. He said that I was annoying and so was my dog
Lisa
- 19-Mar-17 @ 3:56 PM