Staging a Legal Peaceful Protest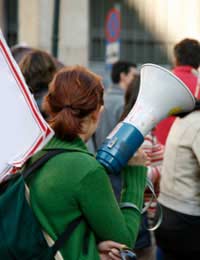 Holding a peaceful protest in the UK is a right as long as the protest follows the law. But the UK government has brought out new laws that give the police extra powers when dealing with protesters.
Peaceful Protests in the UK
Protesting in the UK is a deeply rooted tradition especially when it comes to protesting against government policy. Think of the suffragettes in the early 20th century fighting for the right for women to vote or the 19 year Greenham Common Women's protest against nuclear missiles. Over the years governments have always tried to restrict the rights of protesters. But thanks to the European Convention on Human Rights, the rights to a peaceful assembly, freedom of expression and thought are all legal entitlements. UK citizens are now entitled by law to hold peaceful protests without interference from the police or the government.
New Police Powers and Peaceful Protests
Over recent years the government has brought out a wealth of new laws that are intended to combat perceived threats. These new criminal laws include anti terrorism and anti social behaviour laws. The police do now have extra powers such as arresting someone who is photographing a government building who they suspect is acting suspiciously. Although these new laws are in place to increase safety the police are sometimes guilty of abusing their new powers. The government thinking is that peaceful protests are somehow connected to extreme activities, and a heavy police presence is now the norm.
The Right to Peaceful Protest
It is entirely legal for a group of people to assemble and stage a peaceful protest on a public highway. In fact the police do not need notification of the protest. The public highway should not be blocked off completely, and as long as there are no threats of violence there will be no criminal offence. Notification to the police will be required if the demonstration takes place around Parliament. The police can impose conditions such as the maximum number of people and the duration of the protest. But the police can only do this if they believe these conditions are required to prevent public disorder or damage to property.
Peaceful Protests and Police Conditions
If the police do impose conditions that seem overly strict then the protesters do have a right to ask the reasons for the conditions. Protesters can also try to negotiate these conditions with the police. If the police have acted unlawfully they can be sued under the Human Rights Act. Peaceful protest can only take place on public highways; security guards have no right to move protesters unless the property is on their grounds. Assembling on private grounds without the owner's permission will be seen as trespassing.
Peaceful Protest Points to Remember
It is important to stick to the law when planning a protest and during the demonstration itself. Key points to consider will include:
Be aware of your rights and research the actual intended protest location
Contact local councils before protesting in case a permit to protest is required
Consider using a protest website and press releases during the protest planning stage
Be aware of people who will try to hijack the protest for their own causes
Do not harass or cause alarm or distress to members of the public; this is against the law
Although not required it is always better to make the police aware that a protest is going to occur
Stick to the conditions imposed by the police if they have made requirements
Any violence or damage to property will be viewed as a criminal offence
Peaceful Protests that End in Violence
The new powers given to the police do make it easier for the police to find excuses to move on protesters. Ignoring conditions set by the police can lead to the protest being broken up and this has resulted in violent clashes. There is the view by many government officials that demonstrations that end up as riots are now expected during public protests. Even the suffragette movement was viewed by many as the opposite of a peaceful protest. Protests that end in violence or riots can often lose public sympathy for the actual cause.
There is no doubt that peaceful protests provide a forum for the public's voice to be heard. In some cases these protests can make a difference to government policy decisions. It is in the best interests of the demonstrators to behave in a peaceful manner. Demonstrators who are aware of their rights and stick to the law should be able to hold a peaceful protest without interference from the police.
You might also like...
Hi I am considering a peaceful street demo where partcipants wear Anonymous type masks and show videos to the uk public which shows animal cruelty images and slaughter. Would this be considered as causing alarm or distress and cause police problems? We need to shock people to think about thus but not cause offence in the legal sense. Thanks
Dave
- 27-Oct-16 @ 6:12 PM
Hi, I would like to stage a peaceful protest on the opening night of the new '50 shades darker' film as I believe it romanticizes abusive relationships and perpetrates rape culture. the local cinema to me is in Chichester Gate which is not council owed and wanted to know the law on where we can and cant be, the public are allowed free access into the area but didnt know if we'd be in breach by standing on that land
sarah
- 19-Oct-16 @ 8:51 AM
LuBu - Your Question:
I have organised a peaceful demonstration against racism in my City. Apparently, at the location I wanted to do it (City centre), you have to have a permit, and even public liability insurance. I have tried to cancel the event, but people are adamant it should go ahead.What are the Council's powers if we go ahead?
---
Our Response:
Please read the above article. The section"Key Factors to Peaceful Protests" tells you where you can assemble and details your rights. The subsequent sections explain what the police and authorities can do if you are not protesting within the remit of the convention of human rights.
CivilRightsMovement
- 6-Jul-16 @ 10:30 AM
I have organised a peaceful demonstration against racism in my City. Apparently, at the location I wanted to do it (City centre), you have to have a permit, and even public liability insurance. I have tried to cancel the event, but people are adamant it should go ahead. What are the Council's powers if we go ahead?
LuBu
- 5-Jul-16 @ 9:57 AM
From Kenya, Africa. I have watched how we conduct our protest and it seems we are sitting on time bomb!our opposition have been calling for protest in the last 1 month and so far we have lost many lives and am concern with the next general election, I want to carry out training on how to carry peaceful demonstration in our key slums in major cities across the country. I need your help for those who have evolve in this line. we are still backward and we end up destroying property and loss of lives. Anyone with ideas on how I can do it better please contact me +254722778042.Thank u
wally
- 7-Jun-16 @ 1:20 PM
My mother was sentenced on 04/03/14 for 6 years 8 months for historical physical and sexual abuse. Probation called me this week to say she is now on cat D open prison??? She hasn't even served 2 years. I want to do a peaceful protest at Liverpool Crown Court.The story was in daily mail date above. I need some help and advice please
erica
- 15-Nov-15 @ 1:25 PM
@Alison. There's no reason why you cannot stand peacefully with placards and the like, providing you are not causing an obstruction. Be prepared for the police to move you on if they feel you are causing a disturbance. You need to be careful about naming specific people in your demonstration as it could be viewed as slanderous which would not help your case.
CivilRightsMovement
- 23-Sep-14 @ 9:51 AM
My husband and I wish to protest in front of the Parliament against no justice in our case where people have submitted fraud documents and did not produce and execute a will for seven years. Do we need a police permission? Are we able to put our case in public? Thanks
Alison
- 19-Sep-14 @ 9:45 PM
Is it legal to hold a peaceful protest against the radical muslims and extremists living in the country. I feel that British people are soon become the minority in this country yet no one is willing to stand up against the muslims in fear of being called intolerant and racist?
Chimp123
- 24-Aug-14 @ 3:47 PM
I have found this site to be really useful, in understanding the new legislation and policing powers that aim to eliminate our basic human rights as British Citizens, the most fundamental of these rights is to peaceful protest, yet everyday since December , hundreds of citizens of the United Kingdom have been persecuted by the law and the government of Northern Ireland for protesting at the removal of the Union Flag from Belfast City Hall, which had flown since 1908. We have hundreds of people charged with offences related to the offences and who have been banned from speaking on the issue, there mobiles and communication devices removed from all in there homes,, even those who have committed no offences and who have not been charged have had these devices removed from them because a family members has been charged with some made up offence. we would appreciate any and all help in highlighting these injustices within the UK on British Citizens opposing Tyranny .
ULSTERMAN
- 13-May-13 @ 6:48 PM