Grass Roots Activism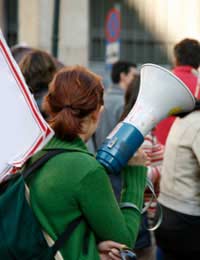 Grassroots activism is a method of campaigning for a cause that the activist or activists feel strongly about. Grassroots activists are often at the complete opposite end of the political spectrum from those in power. But these campaigns are often surprisingly effective when it comes to making a change.
What is Grassroots Activism?
At its most basic level, grassroots activism is a group of people who feel strongly enough about an issue to actively campaign to make a difference. Grassroots activism relies on the basic rights to freedom of speech and expression by individuals when it comes to trying to make a change to a particular issue. This type of activism is not controlled by any particular political party. They are an independent group of people who feel strongly about a certain issue and are willing to put in the effort to affect a change on the issue they are concerned about.
Political Power in Grassroots
In a number of cases there will be individuals involved in grassroots campaigns who do hold political power. It could be politicians who pick up on a certain campaign through the media and believe in the issue strongly enough to add their support. In some cases this could look like the actions of a political party trying to gain favour from the public. However in many cases it will often be that the politician does actually support the cause and wishes to help the people involved in the campaign.
Who are Grassroots Activists?
Grassroots activists can be anyone from any walk of life who feels passionately about a cause. Activists can be a community that are opposed to a large retailer moving into their town. They can be a group of individuals that are opposed to animal testing or who want to change a council's policies. Grassroots activism is politics at its most fundamental level; people coming together to stand up and make a difference. This could mean protesting outside the gates of a factory where an employee has been unfairly dismissed to leafleting a whole community on an issue that affects them.
How Grassroots Activism Works
Once a grassroots campaign starts to pick up momentum it can be very effective when it comes to making a change. A successful campaign can start off with one or two activists that can soon turn into hundreds and even thousands. If the media picks up on the campaign then this can make a real difference to the cause. If the cause has significant support it can effectively change government policies and laws.
Recent protests have included marches against the war in Iraq to campaigns to stop knife crimes in London. These have been protests started by a small number of people that grew to huge numbers through the strength of feeling regarding the particular causes.
Peaceful Protest
Although most grassroots protests are intended as peaceful demonstrations for change this has not always been the ultimate outcome. Many activists have been arrested and in some cases endured time in prison due to their strong beliefs. Animal rights protestors often use extreme methods to highlight their protests including breaking into testing facilities. Protestors against nuclear disarmament in Britain are frequently arrested when they hold sit-ins outside warhead manufacturing plants. Some campaigns can last for many years and take real commitment from those involved.
Making a Difference
Anyone who feels strongly about an issue can start their own grassroots campaign. The power of the Internet has made a real difference to the way campaigns are now run. Thanks to social networking sites it is now easier to recruit like minded activists and organise protests and campaigns. This is grassroots activism at its most basic level but it can make a difference and change the public's attitude towards certain issues.
Holding a political office is not always needed to make a difference to policies and issues. Many changes have been made in the world thanks to the results of grassroots activism. From civil rights activism to the campaigns for nuclear disarmament, grassroots activism will always be a way for the public to make a difference to the world in which we live.
You might also like...
Would like to be notified of any women issues, as well as marches/ movements. Thanx.
Jynn
- 16-Feb-18 @ 2:34 AM
I would like to get involved in your organization. Not just to be seen. But to stand for justice and equality for my brothers and sisters around the globe. I'm located in Atlanta GA. Send the volunteer application. Be Blessed, Emily
Emily
- 8-Jul-16 @ 6:16 PM
Cat - Your Question:
We are planning a read in at our local library which is earmarked for closure, we plan to arrive 30 mins before closing, place ourselves round library (a small local branch) and peacefully read our books, not leave when it's due to close, we will have placards stating this is a protest against library closure, we only aim to stay a short time afterwards just enough to bring attention to senior council figures, is this viable? Any advice and suggestions would be gratefully received
---
Our Response:
Doing this would not be lawful of course....even though it's a public building, you are only allowed to be there within the specified opening times or you're trespassing. However, a protest has to draw attention and this will certainly do that. If you're holding placards maybe you should arrive earlier than the 30 minutes you plan. There is nothing to prevent you staging an all day protest if you wish...and if all you're doing is reading and holding placards, you're not breaking any rules. If you feel refusing to leave will help the publicity (and we think you're probably right), then the worst that can happen is that you will be arrested and to be honest that's highly unlikely if you all agree to move on when asked by the police. Remember to invite a member of the local press along! Let us know how you get on.
CivilRightsMovement
- 29-Jun-16 @ 11:54 AM
We are planning a read in at our local library which is earmarked for closure,we plan to arrive 30 mins before closing,place ourselves round library (a small local branch) and peacefully read our books, not leave when it's due to close,we will have placards stating this is a protest against library closure,we only aim to stay a short time afterwards just enough to bring attention to senior council figures,is this viable? Any advice and suggestions would be gratefully received
Cat
- 28-Jun-16 @ 7:31 AM