Child Maintenance and Parents' Rights: A Case Study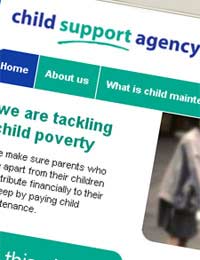 The Child Support Agency in the UK handles just over one million child maintenance cases per year. With the expense of raising a child increasing annually more parents than ever before are asserting their rights and pursuing non-paying parents.
CSA Data and Raising a Child in the UK
Childcare is the biggest financial outgoing in a family. Raising a child in the UK until the age of 21 will cost just over £200,000. Data from the Child Support Agency (CSA) shows that non residential parents assessed by the CSA pay between £21 and £33 per week. In March 2010 there were 840,000 cases where maintenance was due out of total 1.15 million cases assessed. Outstanding child maintenance arrears stood at £3.761 billion by March 2010.
The Fight to Pursue Child Maintenance Payments in the UK
For many parents the fight to ensure that child maintenance is paid can begin before the child is born. Vicki Scott, 33, fell pregnant four months after meeting her boyfriend Sam. "I was actually using the contraceptive pill, which unfortunately didn't work as I was ill with swine flu," said Vicki. "When I was eight weeks pregnant Sam began to change, he had anxieties about becoming a father and became increasingly volatile and unpredictable towards me." It became apparent to Vicki that Sam has some emotional and mental issues but instead of seeking help Sam decided to end the relationship.
Contacting a Partner to Arrange Child Maintenance
Many parents who split up do come to private agreements about child maintenance payments. Sam initially refused to answer Vicki's emails or texts on the subject of maintenance. "It was only when I threatened no contact with the baby that he finally responded." Sam claimed that he was now attending university and could not afford to make financial contributions towards the child's upbringing. "Sam also claimed he had never wanted a child, that I had become pregnant deliberately, which was not the case as I was also attending university. He never once took contraceptive precautions."
Making Private Arrangements for Child Maintenance
When Vicki was 15 weeks pregnant Sam contacted her with an offer of child maintenance payments. "I hadn't threatened him with the CSA at this point because that process can only begin once the baby is born," said Vicki. "Out of the blue he contacted me to say he wanted to be involved and would pay maintenance." An agreement was made for Sam to pay £150 per month and to set up a trust fund of £50 a month until the child was 18. The trust fund was to set to begin one month before the child was born.
Withdrawal of the Offer of Child Maintenance
It is not uncommon for non residential parents to make promises of child maintenance and then decide otherwise. Over 150,000 non residential parents who are assessed by the CSA each year refuse to make payments toward their child's upkeep. "When I was 30 weeks pregnant Sam said he was withdrawing his maintenance offer and he doubted whether he was the father." Sam also demanded a DNA test once the baby was born and stated he would not be paying for the test. It was at this point Vicki decided to contact the CSA to find out what her rights were.
Maintenance Rights and the Child Support Agency
The Child Support Agency assessed Vicki's case and informed her that Sam was responsible for paying the DNA test as he was the one doubting parentage. If Sam refused to pay then the CSA had the legal right to assume his paternity and to continue with the maintenance payments process. If Sam refused to pay child maintenance then the CSA would have the right to remove payments before they reached his bank account. Sam's last known salary was £12,000 and from this Vicki would receive £29 per week in child support payments.
Child Support Payments in the UK
According to the CSA Sam will now pay £125 per month towards the upkeep of his child. According to the data the average monthly financial upkeep of a child in the UK is £800 per month until the child is 21. "The money Sam is being forced to give will initially cover the cost of nappies and that's all, "said Vicki. "The last I heard he had a better paying job, a new girlfriend and was arranging a holiday abroad." Sam has since contacted Vicki to inform her that he will no longer be setting up the trust fund for his child.
Vicki's fight to receive child support payments is far from uncommon in the UK. There are many single parents struggling in the UK to bring up their children with little or no financial support from non residential parents. More information on child support and maintenance rights can be found at the Child Support Agency website.
You might also like...
I feel your pain I also have been made to pay £630 direct from my wages my rent is £950 a month and leaves me with no money to eat or Pay bills I have been told by the cms that it's not their problem my ex earns in excess of £70k after tax and NI but they do not take his into account at all. this is him just making sure I pay for Leaving him for my own safety. I gave him 50/50 access when I left and he took me back to court to gain full parental responsibility so he could keep the house. I think it's so unfair that they are allowed to push the parent that's paying into financial crisis I'm also pregnant now and can't get any help at all. I want to be able to pay towards my children but not to the pointof not being able to eat or pay essential bills.
Disappointed
- 23-Jan-18 @ 12:50 PM
jd - Your Question:
And how much is "Vicki" earning? Why aren't her earnings taken into account?
---
Our Response:
He is the father, it's his responsibility to contribute something towards his child's upbringing.
CivilRightsMovement
- 10-Mar-17 @ 12:34 PM
And how much is "Vicki" earning? Why aren't her earnings taken into account?
Eight months ago, my partner of nearly eight years announced completely out of the blue that she was leaving me and she took our two children (boy of four and a half, girl of two and a half) with her. She was also seven and a half months pregnant with our third. Our relationship has been great up until that point with (honestly) never an argument nor even raised voices in the eight years. We were in the process of buying a new house. When she left, I was denied seeing our children for over six weeks, which was utter hell. I didn't know where they were and she had blocked my phone. After six weeks I did get very occasional contact, a situation that is the same to this day. She is in total control of the situation. I found out a few months later that she had gone to her Mother's for a few days, then a hotel for a week before being given temporary local authority accommodation. I and a lot of others, including my solicitor, were surprised at the speed that they were housed. Via a letter that arrived from her solicitor, in reply to two that she had received from my solicitor, it stated that she had gone to the local authority Domestic And Sexual Abuse Team. To say I was shocked was an understatement. I can assure you that there has been absolutely nothing in our relationship to warrant contact with such. I'd stand up in court on that! It would appear that my partner has made totally false allegations in order to coerce accommodation from the council. This has been done without any form of investigation or verification and enabled her to jump the housing queue or worse, have private rented accommodation funded from the public purse. My partner has been able to take our children away from me, be housed somewhere without me being able to know where, without any form of investigation nor verification of allegations, with no form of recourse, guilty by default, all at the hand of the council and at considerable cost to the public purse, at a time where resources are being stretched. I hope you can see how wrong this is on so many levels? She then contacted the CMS and it was assessed that I should pay £778 per month. Not one person I have talked to can believe that this is how much the CMS assess. This would leave me with £60-70 per month because of high rent, high insurance and pension arrangements (for my children's benefit) and which are NOT taken into account. Nor do they take into account solicitor costs such that one month I couldn't pay the full £778 per month because of a £350+ solicitor bill. I gave her £600. The next month was Christmas and I told her that I'd give her £600 again so that I'd have some Christmas present money. Now, because I was short two months in a row, the CMS will move me to "Collect and Pay" which will mean that they will extract the £778 + 20% from my salary before it hits my bank account. This will mean that I cannot afford my rent! On top of this, she is deliberately lying to the CMS and telling
DistraughtDaddy
- 23-Jan-17 @ 3:47 PM